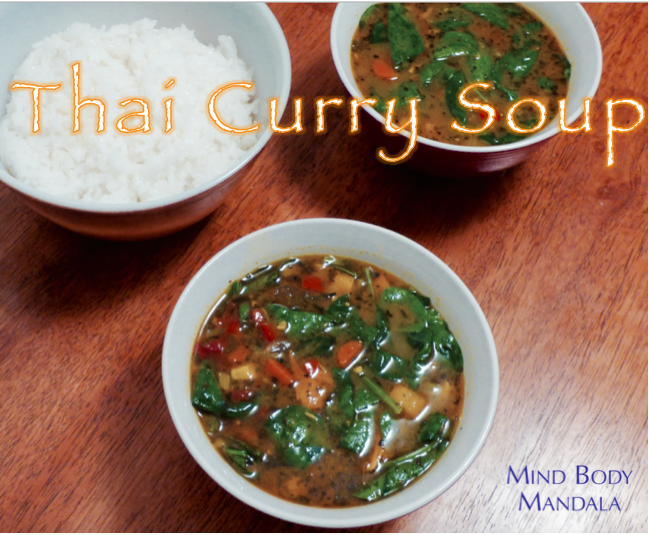 It's great to be back on the Western Slope of Colorado. There is something extraordinary about this place. I felt it the first time I drove across the Utah-Colorado border. After exploring Arizona, Colorado, Idaho and Utah for the past six months it's wonderful to know that this is where I want to live. The synchronicity that led to moving to Grand Junction was nothing short of miraculous. And the work that has gone into getting to this point has been significant. Needless to say, I am very, very grateful to be here.
The weather is perfect for soup.
It's starting to cool down a bit at night, so I've been making some small changes to my diet and lifestyle. Soup has been calling my name, so I made a big batch of homemade chicken stock. Last night I whipped up a pot of Thai curry soup. The warming spices and rich coconut milk melded with the slow-cooked meat and vegetables which made the house smell wonderful!
A bowl of good medicine.
This recipe is incredibly versatile, so feel free to play around with the ingredients. I used what I had on hand and made my own curry powder with a good-quality organic turmeric powder. Turmeric is a great addition to your medicine chest [a.k.a. pantry]. According to Dr. Joseph Mercola:
"It has a long history of medicinal use in traditional Chinese medicine (TCM) as well as Ayurvedic medicine.

Traditional medicinal uses include the treatment of liver disease, skin problems, respiratory and gastrointestinal ailments, sprained muscles, joint pains, and general wound healing.

Its benefits have since been well documented in the medical literature, and curcumin—one of the most well-studied bioactive ingredients in turmeric — has been found to promote health and protect against a wide array of health conditions.

It actually exhibits over 150 potentially therapeutic activities, including anti-inflammatory and antimicrobial activity, as well as potent anti-cancer properties that have been intensely studied."
The full list of health benefits is way too long to list here, so let's get cooking! One of the ways to really amp up the flavor of any soup or stew is to add a sprinkling of Celtic sea salt in the final stage of cooking. Just be careful – this stuff is STRONG and a little goes a long way. I also add just a touch of sugar to balance the flavor of the curry. I like spicy food but I can get a little heavy handed and the sugar helps to round things out.
Thai Curry Soup
Serves 2
Ingredients:
2 Tbsp coconut oil
1 clove garlic, minced
1/2 small onion, chopped
1/4 red pepper, chopped
1 small carrot, chopped
1/3 yellow squash, chopped
2 mushrooms, rinsed and chopped
1/4 cup diced tomatoes
1 cup cooked dark chicken meat, sliced
1 rounded Tbsp curry powder
1 quart chicken stock
1/2 a can of full fat coconut milk
Handful of baby spinach
Kosher and Celtic salt
Start by warming the chicken stock in a small saucepan over low heat.
Place a large wok over medium heat. Add coconut oil, chopped onion, red pepper and carrot. Stir occasionally and cook for a few minutes.
Add chopped yellow squash and mushrooms and cook for another 2 minutes. Sprinkle with Kosher salt.
Add minced garlic and sliced chicken meat. Cook for 1-2 minutes, then coat with curry powder. Stir mixture constantly (it will be dry) for another 1-2 minutes.
Add chicken stock, coconut milk and diced tomatoes. Bring to a boil and then simmer until carrots are tender (15-2o minutes). Add a sprinkle of Celtic sea salt and adjust seasonings as needed.
When ready to serve, add a generous handful of baby spinach and stir until the leaves are wilted. Ladle soup into two bowls.
Serve with hot white rice or cooked noodles.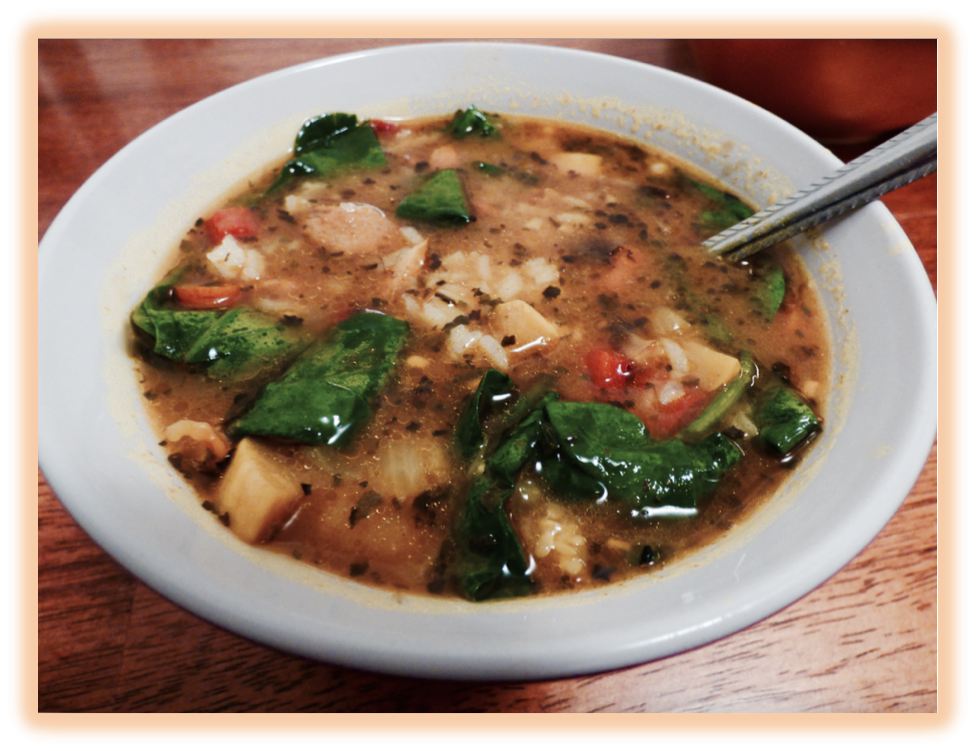 If you enjoyed this recipe you might also like: Home Rituals – Tortilla Soup