There's been a lot of sickness floating around lately – some nasty chest and head colds (I got hit with both). For the most part I let them run their course, knowing that my immune system would be stronger once it was all over. I upped the anti on my vitamin C intake, drank LOTS of hot tea and tried to rest as much as possible.
The double whammy slowed me down quite a bit so I adjusted my practice accordingly (downward dog is just not an option when your head is full of snot). At times like these it's good to remember that it really doesn't matter what you do in your home practice just as long as you do SOMETHING for at least an hour a day.
One of the best things I did for myself was cook with warming foods (garlic, onion, cayenne pepper). I added this powerhouse trio to soups, curries, and pasta dishes, and with each bite my head would clear up a bit more. One of the recipes that I made was Chicken Tortilla Soup. Every ingredient is highly medicinal and when put together they pack a powerful punch. Best of all it's really easy to make.
Chicken Tortilla Soup
Serves 2-3 people.
1/2 white onion, diced
1 medium-sized carrot, chopped
1 cup grape tomatoes, quartered
3 cloves garlic, minced
1 Anaheim pepper, diced (or 1/2 of a green pepper)
Heat a medium-sized sauté pan on a low setting (**see note about cookware**)  Add 1 tablespoon butter. Add the carrots, onions and peppers and increase the heat to medium. Sprinkle with salt (Kosher or sea) and sauté for a few minutes, stirring occasionally.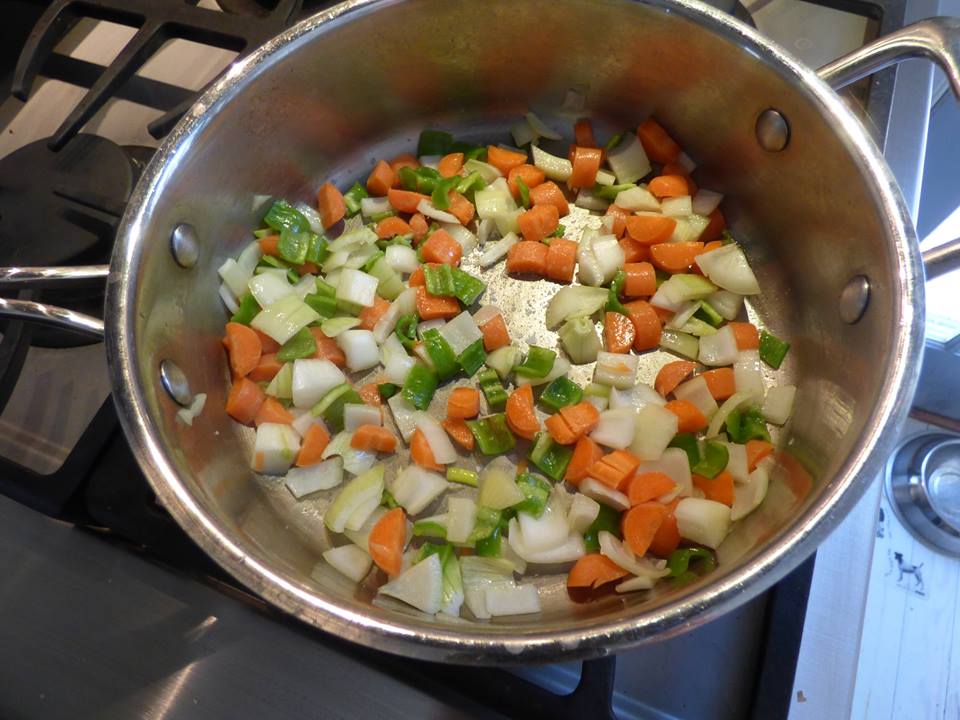 Add the minced garlic and cook for another 1-2 minutes, stirring to keep the veggies from browning. Garlic can burn very easily, so you want to keep a close eye (and nose) on your pan at this point. As soon as you smell the garlic add the tomatoes. This helps to keep the veggies from sticking to the bottom of the pan and will prevent any burning.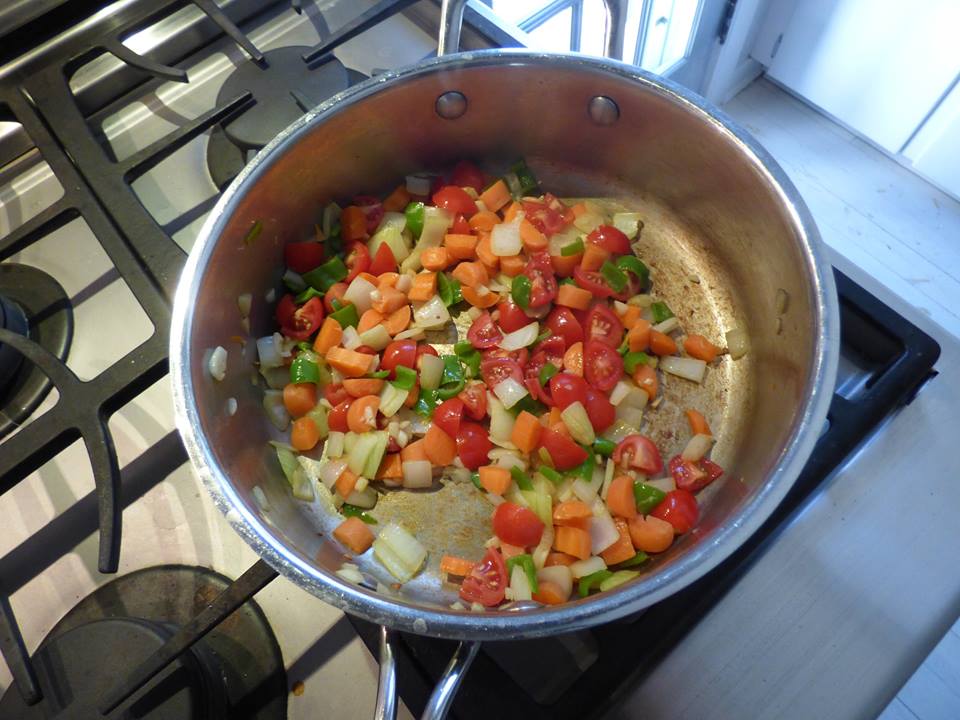 Cook the veggies for another couple of minutes. At this point the onion should start to look translucent. Add a quart of chicken bone broth (I used this recipe: Home Rituals Bone Broth)
Increase the heat to medium-high and bring the soup to a boil. Reduce the heat to medium and cook for 10-15 minutes or until the carrots are fork tender. The bubbles should break continuously on the surface (between a rolling boil and a slow simmer).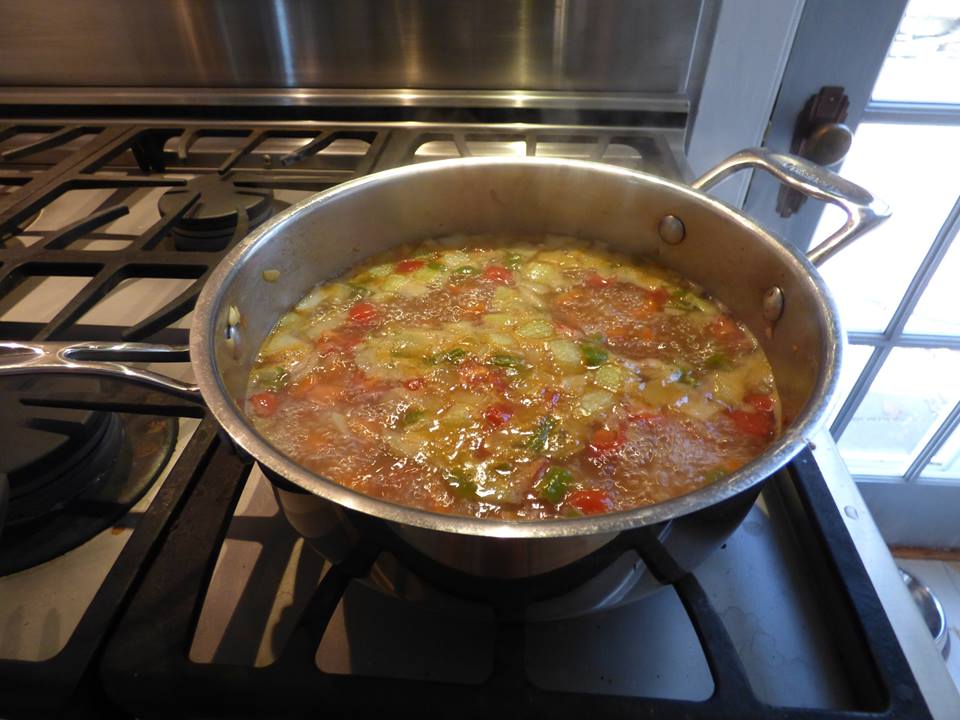 Drain and rinse half a can (8oz) of organic black beans. Add to the soup, along with a 1/2 cup of cooked, diced chicken and cook for another few minutes. I used dark meat because it doesn't dry out like white meat. If you wanted to use white meat you could – I would just recommend waiting until the very last minute to add it. Season the soup with:
1/2 teaspoon coriander powder
1 teaspoon cumin powder
1 teaspoon cayenne pepper (or more if you like it spicy)
Salt to taste
In the last minute of cooking, add 2 tablespoons of chopped fresh cilantro and the juice of half a lime.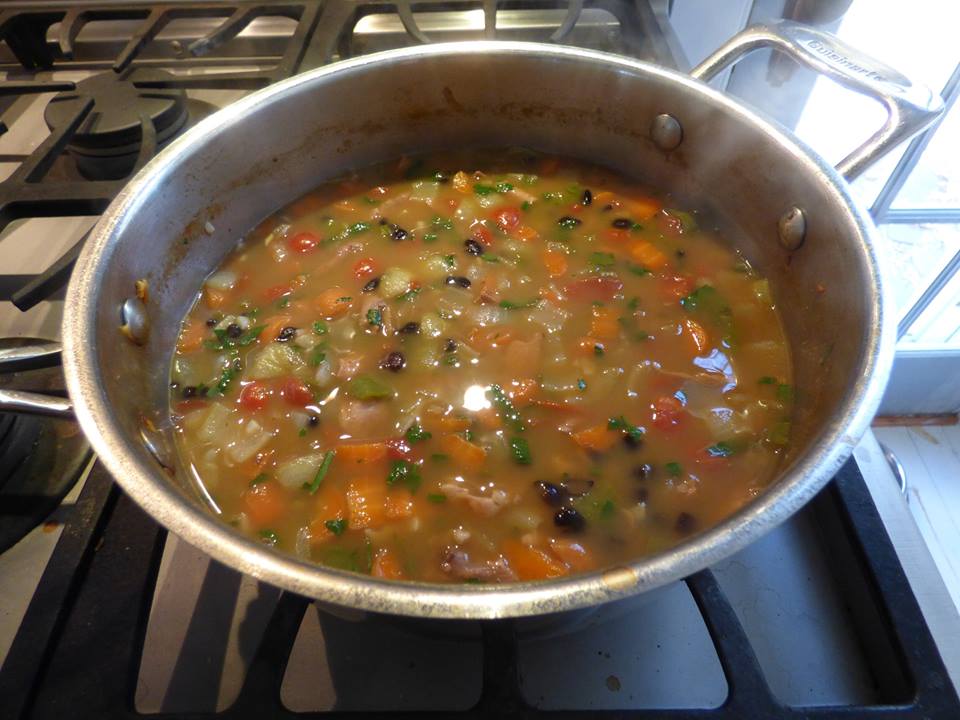 To serve, place a half of a cup of cooked rice in the bottom of a wide bowl. Ladle the soup over the rice. Garnish with a small handful of crushed organic, non-GMO corn tortilla chips, a few sprigs of fresh cilantro and a wedge of lime. Voila!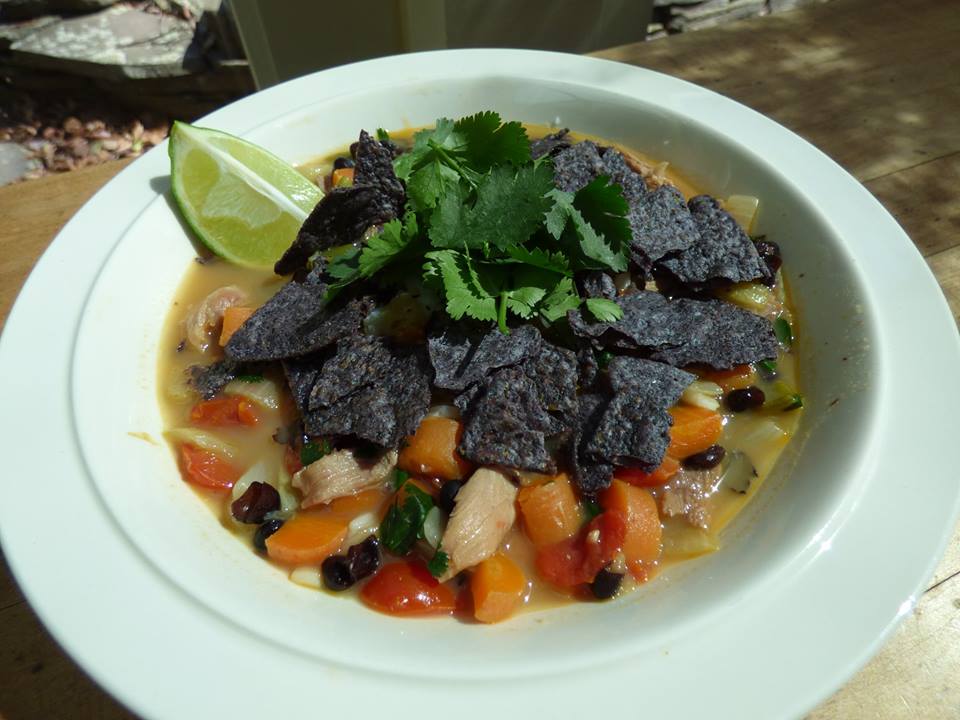 ** Just a quick side note about cookware – avoid aluminum at all costs as it's one of the causes of Alzheimer's. I used stainless steel because that's what was available at the time, and it's pretty good for cooking. Teflon is okay as long as you don't use metal cooking utensils which can scratch and release poisonous Teflon particulate into your food.  The best option for cookware is a good-quality ceramic or ceramic-coated pan. And you don't want to use any metal utensils with ceramic cookware. Wooden or high temperature plastic utensils are fine. **
What's your go-to recipe when you're feeding a cold?  Feel free to leave a comment in the box below.