So I thought I'd share the story of when I first started practicing yoga.  I'll be honest with you that I didn't like it AT ALL and left that first class thinking that yoga just wasn't for me.  I was twenty three and this was back before yoga became popular.  I was living in Maine at the time and one day I was walking through town where I saw a sign advertising free yoga.  I'm not one to pass up a free class so I decided to give it a try.
All I remember was the class involved chanting the whole time and they didn't provide any printed lyrics to read from.  So I sat there breathing incense smoke and feeling totally awkward until it was time to leave.  Now I know that I'd stumbled on a Kirtan, but without any introduction to the "why's" that were involved it was a pretty rough way to start out.
A few years went by before I tried taking another class and this time it was with a different teacher at another studio.  The format was much closer to something I could wrap my mind around.  It reminded me of a gentle dance class and the meditation portion was simply wonderful.  The teacher was a sweetheart who would always hug her students and the things she taught made a lasting impression on me.
After a few classes I was hooked and it became my mid-week ritual.  I remember stopping by the town bar before class and trying to rally my friends to go with me (yeah, no luck there).  People were too tired or just not interested but I kept going by myself every week.
I recently met a woman who told me point blank that she doesn't like yoga.  She'd only been to one class and said that was enough for her.  She coaches a high school girls basketball team and claims that she's too competitive for yoga.  She also admitted that she didn't like being singled out by the teacher who was giving corrections during class.
I totally understood where she's coming from but I hope she can find her way to another class someday.  She could probably benefit from one that was geared towards athletes, but the bottom line is that she's the only one who is going to change her mind.  Still, this is a common issue that happens with group yoga classes today, where first timers decide to try a class with no idea of what to expect and get burned out from the experience.
If you're new to yoga I want to encourage you to try a few different styles.  You might find this  flow chart handy as it could give you an idea of what kind of yoga class would best suit you.  (If you can't read it clearly here you can also view it on my Facebook page.)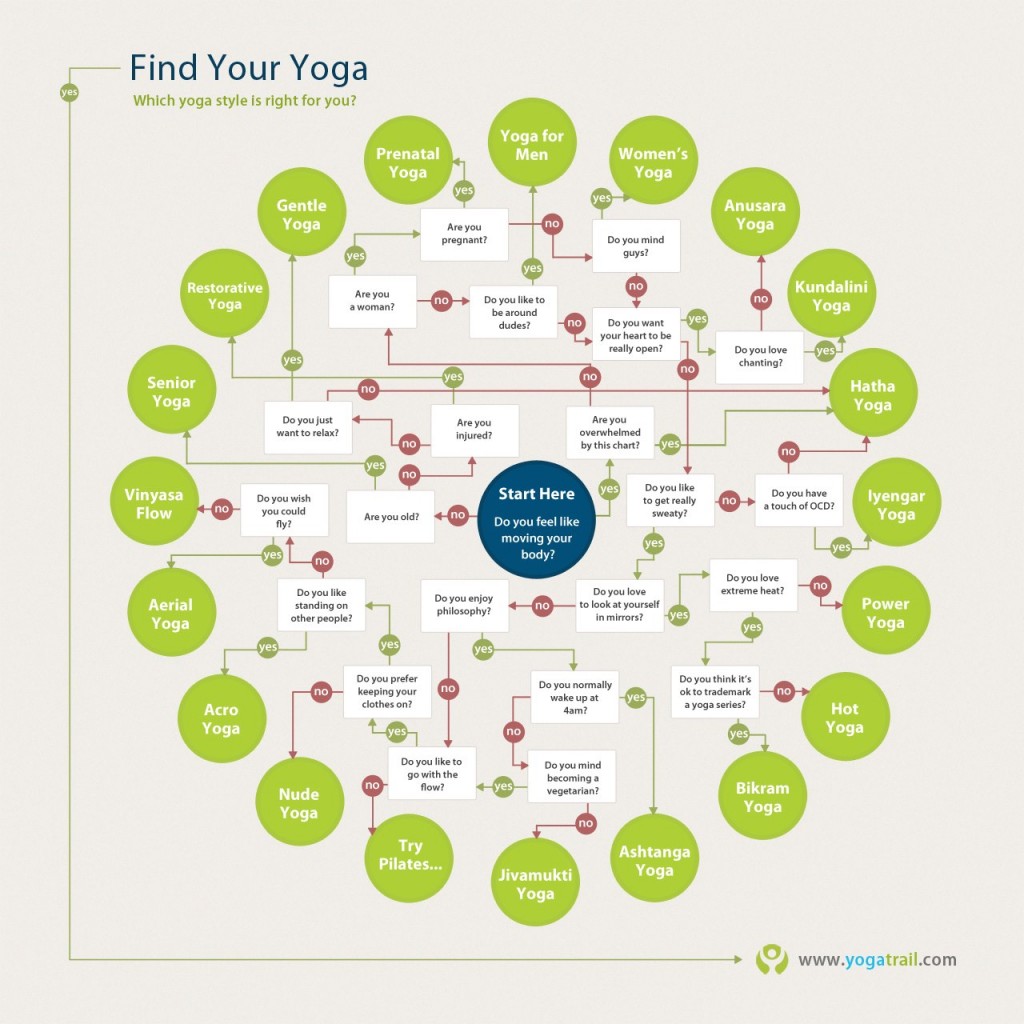 What was your first yoga class like?  Was it enjoyable or was there something about it that didn't suit you?  Feel free to leave a comment in the box below:
Thanks for visiting! Sign up here to receive a FREE consultation.