So this week I wanted to share another recipe with you. It's an adaptation of the very first recipe that I ever learned (I was six years old) so it's pretty dear to my heart. I have a thing for making chocolate chip cookies. Eating them isn't so much the goal – it's really just about the process of making them. It's a little ritual that I practice whenever I'm in a new living situation. There's something very soothing about it (maybe you can relate) and it brings a sense of being at home no matter where I am.
While cooking is an art baking is a science, so I stay pretty close to the original Toll House cookbook recipe. But I've learned some tricks along the way too, so here's the most recent evolution of this tried and true classic: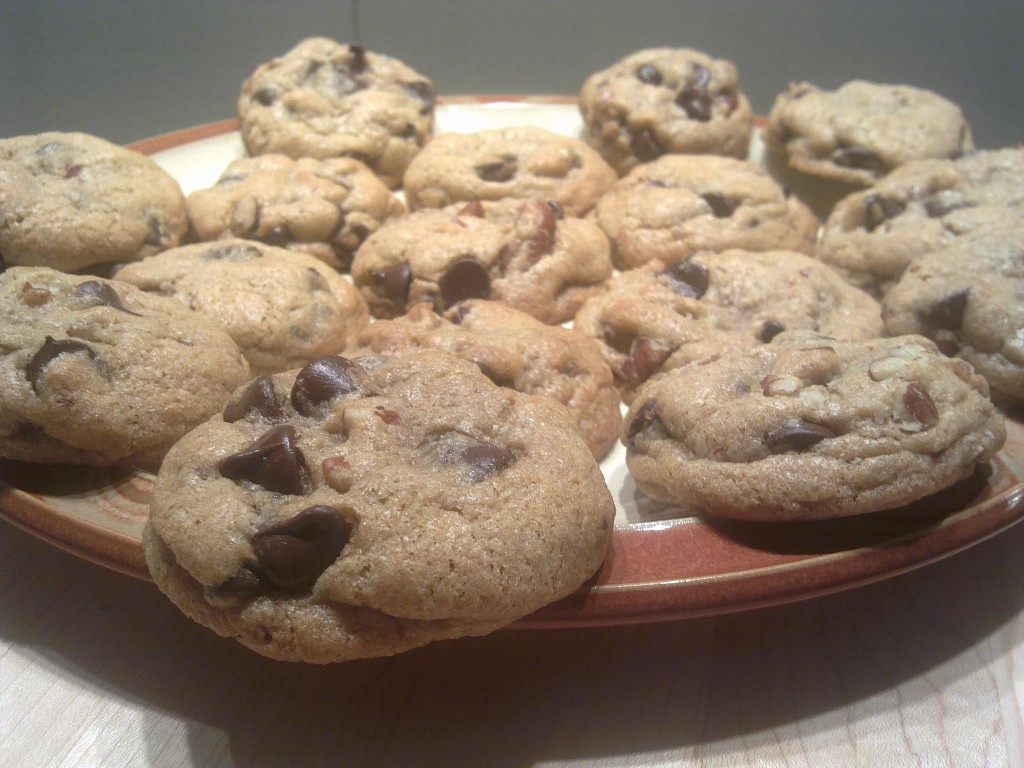 Chocolate Chip Cookies
Ingredients:
2 and 1/4 cups whole wheat flour
1 teaspoon baking soda
1 teaspoon salt
1 cup (2 sticks) butter
3/4 cup cane sugar
2/3 cup packed brown sugar
2 teaspoons vanilla extract
2 large eggs
10 oz. dark chocolate chips
1 cup chopped nuts
Preheat oven to 350°F.
In a small pan over low heat, melt butter, cane sugar and brown sugar. Stir to combine and remove from heat. Cool for at least 10 minutes.
Combine flour, baking soda and salt in small bowl.
Transfer butter-sugar mixture to a medium bowl. Add vanilla extract. Add eggs, one at a time, beating well after each addition.
Gradually stir in flour mixture.
Stir in morsels and nuts and CHILL the dough completely-at least 4 hours.
Drop rounded tablespoons of dough onto ungreased baking sheets.
Bake for 8-10 minutes – halfway through the baking time turn the pan 180 degrees.
Allow cookies to cool before transferring.
COOL the pans completely before baking another batch (option: run cold water over the pans).
Another trick is to use parchment paper to help reduce clean up. I like to store the cookies in the freezer in small ziplock bags and share them with as many people as possible.
*** For high altitude baking increase flour by 1/4 cup ***