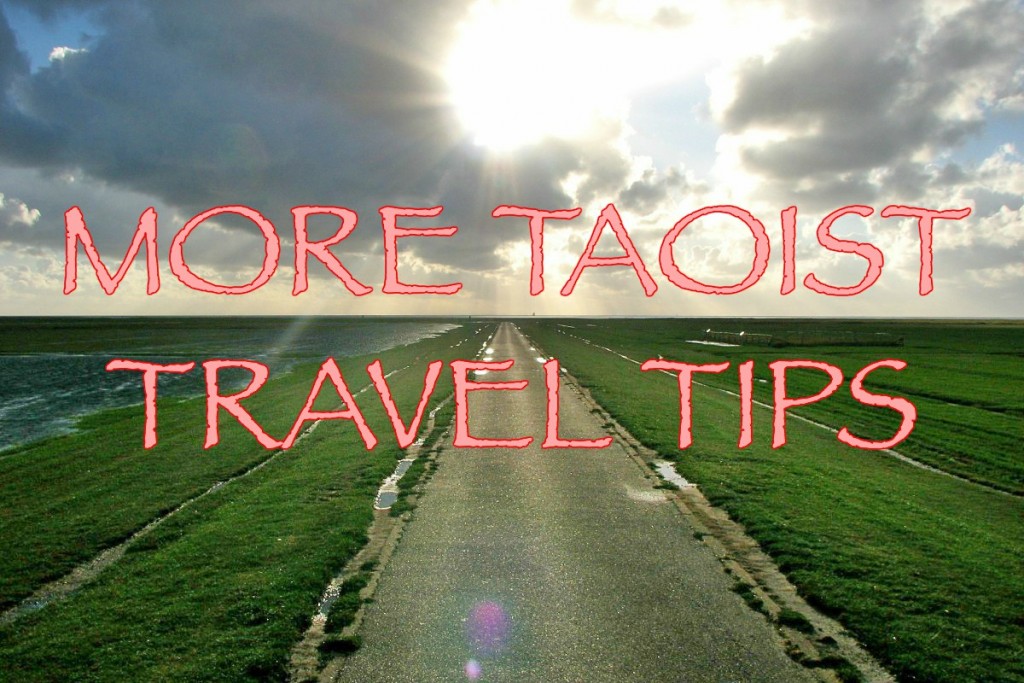 I've just had one of those full-tilt travel days – the kind of day when there's no time to eat and lollygaggers seem to be EVERYWHERE. The sounds, smells and sensations of the city have been noticeably intense. It wasn't possible to do my home practice but I did have an opportunity to practice off the mat. Here are a few more of my Taoist Travel tips.
Internal Arts
At times like these it's easy to get stressed out but frustration would only add to the challenge. So I try to view days like today like they're a game. Shifting my perspective helps to streamline things and makes these challenging experiences more enjoyable.
Next time you're in a situation where you can't do your daily asana practice you might try visualizing yourself going through your sequence. You could also try listening to a recording of a guided meditation. Some people find that having something tangible helps them stay focused and will use a mala to practice mantras in silence.
Foot Washing
Another Taoist Travel Tip is to clean your feet after you arrive at your destination. Washing off the dust of the road and putting on a clean pair of socks is a simple yet effective way to renew yourself after a long day. Physically, the act of cleaning your feet relaxes your whole body. Foot washing also helps to clear out any energetic "muck" that you might have picked up along the way.
Last but not least, it's always good to keep a sense of humor. Keep an eye out for something that makes you laugh. Even if it means that you're the only one laughing at your jokes – just keep going with it. When the going gets tough a good laugh will lift your spirits and fill your sails.
Do you meditate when you're on the road? What techniques do you use? Feel free to leave a comment in the box below.