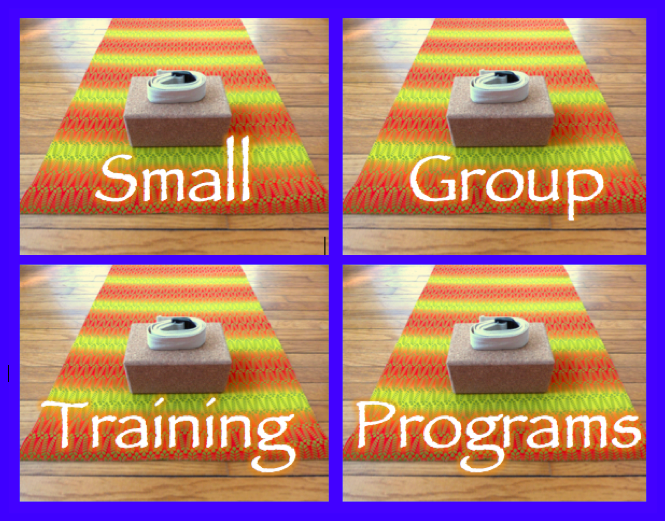 Let's face it, exercising with friends is a lot of fun. We can learn so much about ourselves while being part of a team. And as life is moving faster than ever, quality time with friends and family is becoming even more of a priority.
Small group training is a wonderful way to experience the benefits of Personal Yoga in a supportive environment. Receive high quality instruction at an affordable rate, as you create meaningful shared experiences. Families, friends, couples and co-workers can form their own teams and work towards their shared goals.
Flying solo
If you would like to join a team simply request to be added to an open group. This is a great way to make new friends and connect with people in a positive setting. You might also choose to receive additional help through one-on-one training while participating in a small group program.
Small groups are small for good reason
Keeping the number of participants low makes it possible for each client to receive as much personalized attention as possible. Small groups are typically made up of two, three or four people.
How long does a training program run?
The ideal time frame for a small group training program is 5-10 weeks. You could start with a single session and if you decide to continue I recommend upgrading to a discounted package of five sessions.
Assemble Your Team
---
Some helpful tips on forming your own Personal Yoga team:
INVITE A FRIEND 
Everyone needs a little motivation from time to time. Give your friends a little nudge and share this post with them.
FIND A TEAM 
Ask to be added to a team that is right for you. We'll connect you with people who have similar needs and goals.
Get Motivated
---
Read a few success stories from past clients on the Testimonials page.
Learn about the many Personal Yoga Benefits
Get Started
---
Start your Personal Yoga journey today. Sign up for a free no-obligation consultation: Book Now