WELCOME TO THE CIRCLE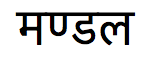 Mandala pronounced: man·da·la [muhn-dl-uh], Sanskrit meaning "circle."   
The Mind Body Mandala is an evolving system of holistic movement education. Based on a synthesis of traditional and innovative forms, this method provides a therapeutic tool set for health and longevity. Mindful exploration of these techniques increases awareness of the intelligent design of the body. Developing a mind-body connection enhances creativity, intuition and consciousness.
The keystone of this transformation is the cultivation of a personal practice. There are three stages of mastering a musical instrument – technique, improvisation, and composition. We can apply these same principles to our body-instruments to bring about our own joyful liberation.
INTENTION
The loving intention of this site is to provide creative, compassionate space for transformation. As honey is procured from many flowers, the Mind Body Mandala is a crossroads of many paths. We support the interplay of the individual and the community. The body is a gateway to awareness and the teacher can be found in everything. We welcome your voice.