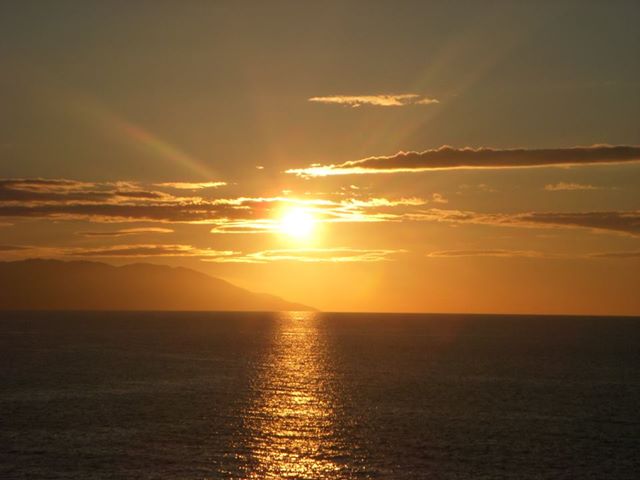 Happy summer solstice! I hope you were able to soak up some of the blessings of this day. I'm in the city this week and decided to honor the sun with an outdoor practice. I went to my favorite spot in Riverside Park that overlooks the water and set up shop. Kicked off my shoes, placed my backpack right next to my mat (one can never be too careful) and closed my eyes to meditate.
The mental knots of the day started to unravel as my senses tuned into the sounds and smells of the park. The sweet fragrance of linden blossoms interwove with the sharp odor of fresh asphalt. I chanted Om in harmony with a passing ambulance siren.
I've been practicing inside a lot lately so the change of scenery took a little getting used to. The ground was uneven and I had to stop every so often to blow the occasional ant off my hand or foot. It made me a little twitchy but I remembered that yogis used to practice on the ground with no mats.  And looking at the trees while being upside down is great for shifting perspective.
The very best part was dancing with the wind. There is something so magical about the summer breeze in the city (I swear it has a life all of it's own). The effect of practicing asana in those warm gusts of air is so transformative – talk about wiping the slate clean.
The effect reminded me of a scene from a movie I just saw – Fearless with Jet Li. At one point Li's character is learning how to work in the rice paddies in the countryside. Whenever a warm breeze moves through all of the villagers stop what they are doing, stand up and close their eyes. At first Li's character is too caught up in feeling insecure and competitive and stubbornly keeps working. Later on he realizes the basic goodness of taking those pauses. Basic goodness is a term that was coined by Tibetan spiritual teacher, Chogyam Trungpa:
"Discovering real goodness comes from appreciating very simple experiences. We are not talking about how good it feels to make a million dollars or finally graduate from college or buy a new house, but we are speaking here of the basic goodness of being alive — which does not depend on our accomplishments or fulfilling our desires. We experience glimpses of goodness all the time, but we often fail to acknowledge them. When we see a bright color, we are witnessing our own inherent goodness. When we hear a beautiful sound, we are hearing our own basic goodness. When we step out of the shower, we feel fresh and clean, and when we walk out of a stuffy room, we appreciate the sudden whiff of fresh air. These events take a fraction of a second, but they are real experiences of goodness." ~ Chogyam Trungpa
How did you celebrate the solstice today? Did you have any opportunities to practice basic goodness? Feel free to leave a comment in the box below.